| Main | Pyramids | Dutch posts | How to build a lollipop |
Black bulgar (Bulgaria inquinans)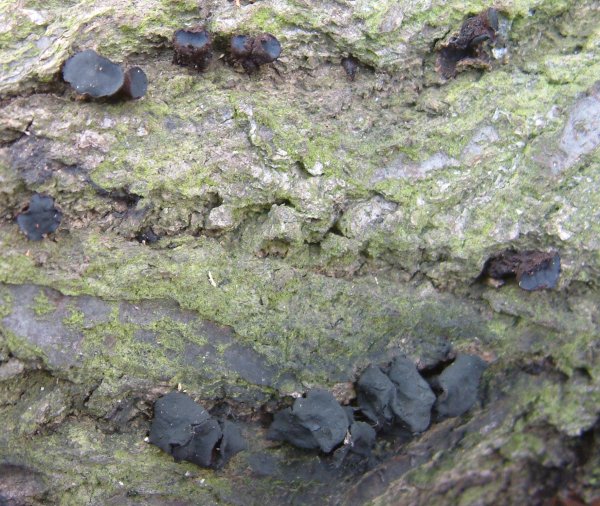 Bulgaria inquinans on oak Quercus robur. Photo by Maria Fremlin, 31 October 2007.
These fungi were found on the oak logs used in the construction of this lollipop.
This fungus was originally confused with Daldinia concentrica, which is found on ash and/or beech, not on oak. It has a rather interesting common name: King Alfred's cakes, relating to a famous legend. It goes like this:
Back in January 878, King Alfred, when fleeing from a battle, took refuge in an old woman's cottage who left him to watch some cakes cooking in the oven. However the battle wearied king soon fell asleep and let the cakes burn. When the woman came back she scolded him soundly for being lazy.
LINKS:
King Alfred the Great
Daldinia concentrica, the coal fungus, carbon balls, cramp balls, or King Alfred's cakes
Wood decay and wood-rotting fungi

First uploaded on December 3 2007
Last modified: Mon Aug 01 2016
| Main | Pyramids | Dutch posts | How to build a lollipop | Top |