| Main | Stag beetle conservation |
Dutch nesting posts
Nesting posts are very easy to monitor; they have been used successfully in the Netherlands since 1999 [1].
They are built with aligned vertical posts of decayed oak wood. The posts are about 1 meter long, 20 cm thick, and buried to a depth of 80 cm, close to each other. See drawings below.

Drawings of the nesting posts by Paul Hendriks, March 2006.

For monitoring them all that is needed is to dig a ring around the posts, area a, about 60 cm deep, and by hand carefully scrape the soil around the wood, area b.
This must not be done from June to September in order not to disturb the pupation stage.

Another great advantage of these nests, apart from the easy monitoring, is that they can be installed in all kinds of places without great difficulty due to their slenderness.
See below photos of a nest in a builders yard, behind the kitchen sink, on the point of being monitored by Paul Hendriks, holding a fork.

Photos by Bert van Geel, 11 June 2004.

During early February 1999 a total of 4 nesting posts were installed in a couple of stag beetle areas, Vierhouten and Hoog Soeren, two in the sun and two in the shade, and all of them have been successful; that is, soon all have had larvae feeding in them.
More importantly, in one of these, the first stag beetles were found since the posts were installed: seven perfect imagos, in November 2002. This shows that eggs were laid in the first season in which the post were set-up, and that the larval development took three years. [1]

This way, for the first time, the life cycle of the stag beetle has been ascertained in the wild: four years in the Netherlands. This is a very important result.

See photo below of the posts carefully exposed, showing advanced white rot and some stag beetle larvae.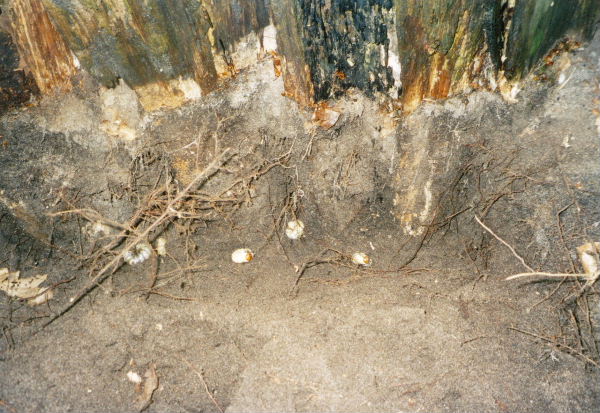 Photo by Paul Hendriks, 11 June 2004.
Let's install some more of these Dutch nesting posts in stag beetle areas, and seriously monitor them. This way we could get a better understanding of how long really is the life cycle of a stag beetle, and how much it depends on the type of wood used and other factors.
We are all very grateful to Paul Hendriks for sharing his results with us.
[1] Broedstoven voor vliegende herten - Breeding sites for stag beetles, by John T Smit & Paul Hendriks, 2005.
Contact: Maria Fremlin
Last modified: Wed Feb 10 2016
| Main | Stag beetle conservation | Top |