| Main | Stag beetles and culture |
Stag beetles in stamps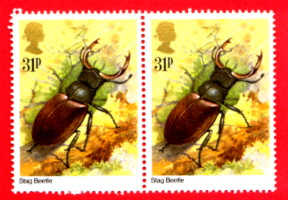 Male stag beetle stamps issued by the Post Office in 1985.
Designed by Gordon Berningfield.
The other British insects featured in this issue were: the Buff Tailed Bumble Bee, the Seven Spotted Lady Bird, the Wart-Biter Bush-Cricket and the Emperor Dragonfly.
From D.H.Fremlin's collection.
PS: there has been another stag beetle stamp issue in 2007 but I missed it.
| Main | Stag beetles and culture |