| Main | Mating quiz | Stag Night in Colchester | Nuptial flight | Mate-guarding behaviour in stag beetles |
Male stag beetle Lucanus cervus necrophilia
Male stag beetles are often observed attempting to mate with a dead female. This is because sometimes injured or dead females are left "turned on" and the males find them very attractive. See below a pair which was found in a friend's garden towards the end of the 2004 flying season.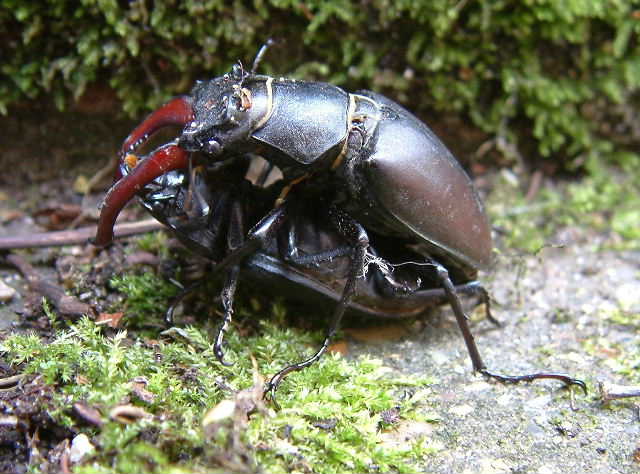 Photo by Maria Fremlin. Colchester, England. 2004:07:21 11:22:50 BST

Even though it was towards the end of the season this male was still extremely willing to mate.
Moreover, it wasn't just this male that was keen. Later I tested her with some more males; click here to see what happened.
---
One evening, at the beginning of the 2016 flying season, several males were flying around a small area, some of them very low, others were on the ground. It turned out that they were rather attracted to the remains a female. It had only the upper part: head, pronotum and front legs which were still moving, so it must have been recently killed. See below.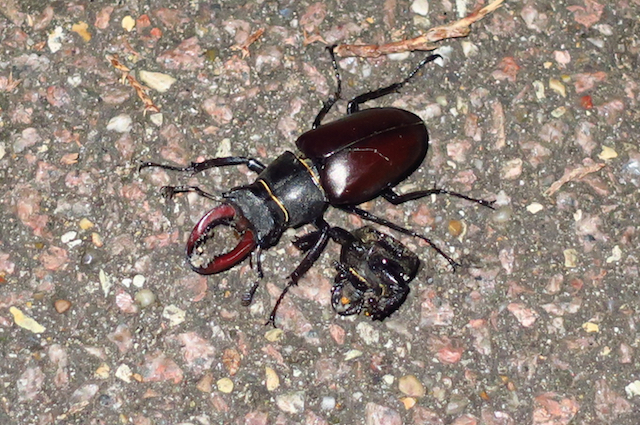 Photo by Maria Fremlin. Colchester, England. 2016:06:07 21:48

This male circled around the female body, sometimes even grabbing the corpse.
---
Soon afterwards, another male actually managed to mount her.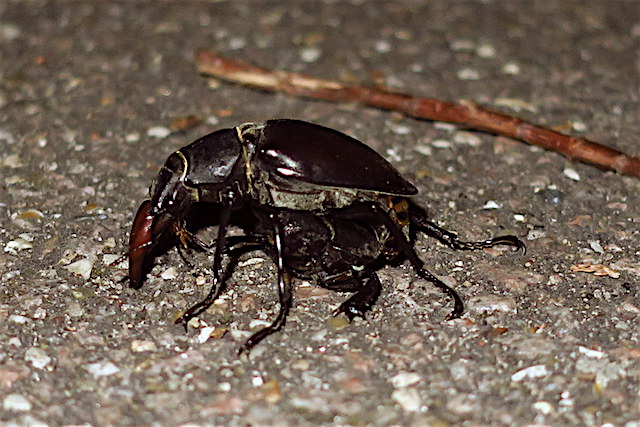 Photo by Maria Fremlin. Colchester, England. 2016:06:07 21:53
Note the male's everted genitalia.
The remains of this female were still producing their sex pheromone.
Conclusion: this important observation strongly suggests that the location of the female pheromone gland is in the upper part of the body, precisely in the forelegs. Indeed, previous research indicated that it underneath those characteristic "golden patches" on the femur of their forelegs. The setae in "golden patches" soak it up and that way help with the dispersion of the pheromones [1].
[1] - Harvey D.J. (2007) Aspects of the Biology and Ecology of the Stag Beetle (Lucanus cervus). PhD thesis.
Last modified: Tues June 14 2016
| Main | Mating quiz | Stag Night in Colchester | Nuptial flight | Mate-guarding behaviour in stag beetles |