| Main | Games | Stag beetles' life cycle |
The Dying Stag Beetle
By Mary Bullard, 8, July 1996, Year 4, Hamilton County Primary School, Hamilton Road, Colchester CO3 3DZ, Essex, England.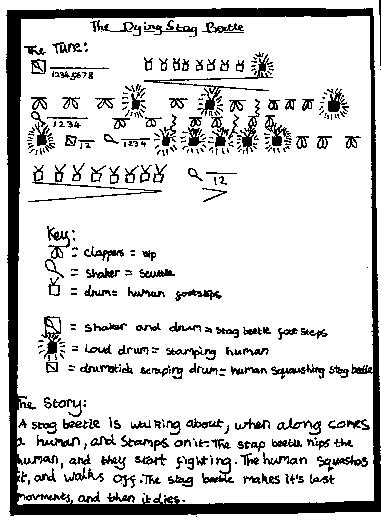 The tune, courtesy of Mary's dad, the composer Alan Bullard.
The story:
A stag beetle is walking about, when along comes a human, and stamps on it. The stag beetle nips the human, and they start fighting. The human squashes it, and walks off. The stag beetle makes it's last movements, and then it dies.
Joke :
- Why did the stag beetle cross the road?
- To see his flat-mate.
| Main | Games | Stag beetles' life cycle |