[1] - Jeremias, X. & Escolà, O. (2003). Nuevos registros de Pseudolucanus barbarossa Fabricius, 1801 (Col., Lucanidae) en Cataluña, y algunas observaciones sobre su biología. Bol. SEA, 32: 99-103.
[2] - Ilaria Toni personal communication.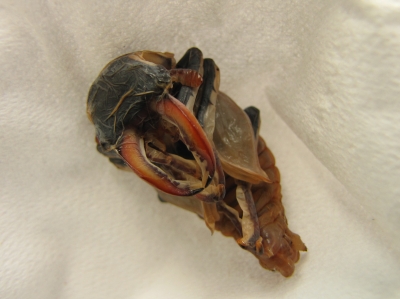 Male Lucanus cervus pupa ready to eclose. Note the very thin skin enveloping the dark coloured adult inside it; compare it with this one. Photo by Maria Fremlin, 20 August 2010.