| Main | Stag beetles and culture |
Kiev sculpture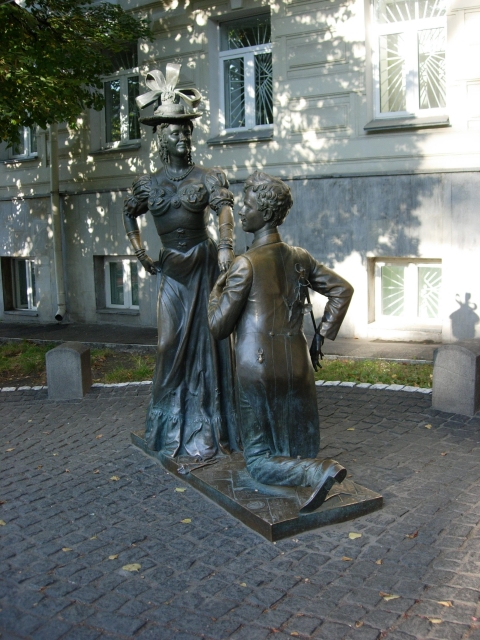 Pronya Prokopovna and Svirid Petrovich Golokhvastov, by sculptors Vladimir Shchur and Vitaliy Sivko.
Photo by Sylvie Barbalat, 2006.

They are characters from a famous play by the Ukrainian dramatist and writer Mikhail Petrovich Staritsky (1840-1904). The comedy "Za Dvumya Zaytsamy" ( "After Two Hares ") - meaning that if you run after two hares, you will catch neither - was even made into a film.
The plot was that the guy with the stag beetle was the one after the two hares.
Did you spot it? Oh, they do land on people sometimes!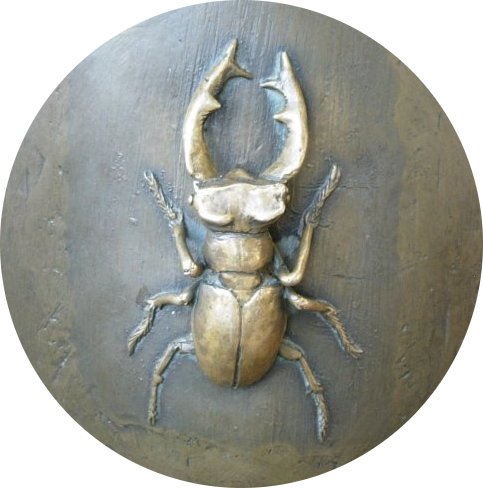 Close-up of the stag beetle on the young man's coat. Photo by Sylvie Barbalat, 2006.

It was a very humorous and apt detail to add.
Kiev is one of the many towns that have stag beetles [1]. Other examples that I know of are Budapest, Basel, Bonn, Brussels, London, and Colchester which is where I live.
For its location in Kiev click here.
[1] - Mamonov G (1991) The Great European Stag Beetle - its Past and its Future. Bulletin of the Amateur Entomologist's Society 50: 157-163. [PDF]
| Main | Stag beetles and culture |