| Main | Stag beetle predators |
Stag beetles and frogs
It might seem incredible to you but frogs love to have a go at stag beetles. I have seen several attempts, but I haven't managed to take any good pictures yet. However other people have beaten me to it and here they are.

First, a couple of photos of frogs on dry land where frogs do quite a bit of foraging mainly during the night.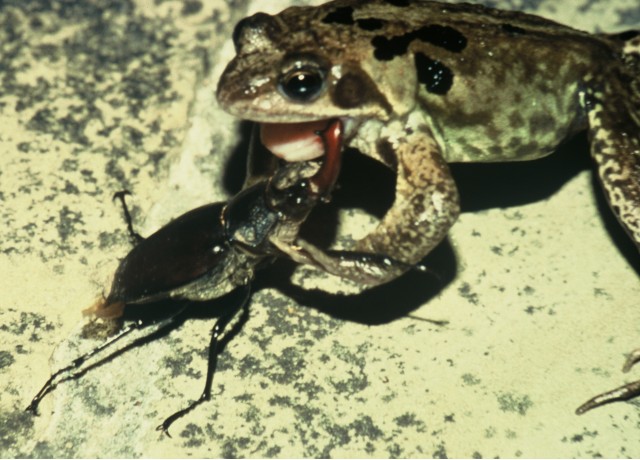 Photo courtesy of Ian Rose, June 16 1996, Mistley, Essex, CO11 1HN.

A dramatic frog and beetle confrontation.
---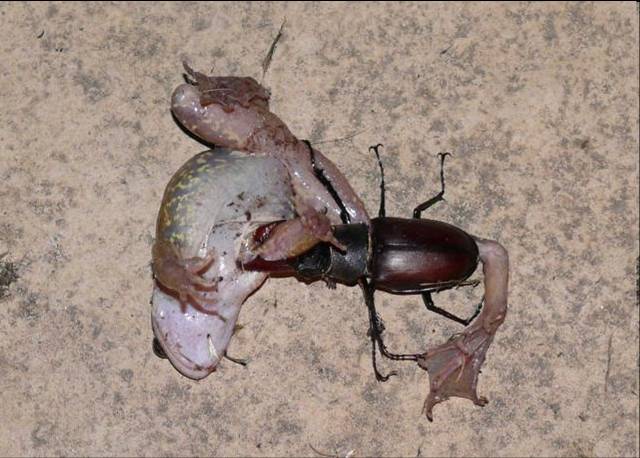 Photo courtesy of PTES Great Stag Hunt, 2008 gallery.

This time it looks as if a male stag beetle is having a go at a frog...
---
And a couple of photos in ponds where quite often stag beetles end up.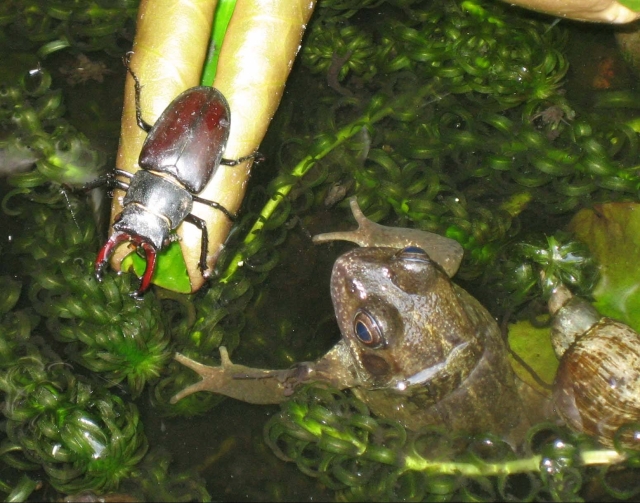 Photo courtesy of PTES Great Stag Hunt, 2007 gallery.

What happened next I've no idea...
---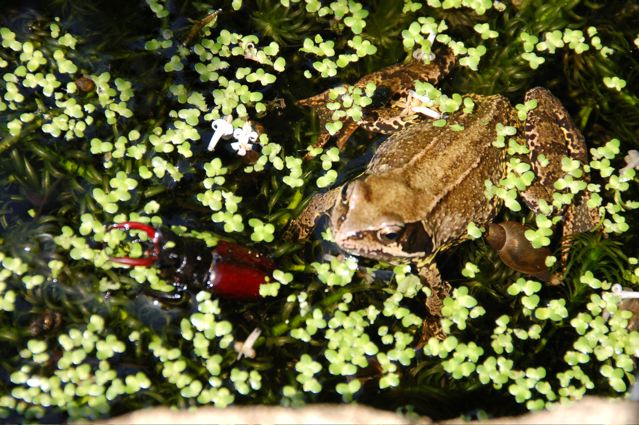 Photo courtesy of Charles Bather, 24 June 2008, Colchester, Essex.

Charles wrote:
"This lunch time I glanced in the pond and saw a frog trying to catch some sort of insect. On closer inspection it turned out to be a Male Stag Beetle. Far too big for this frog. I got a chance to snatch this photo before the frog took fright and dived away. Needless to say I rescued the beetle and put him in a safe place. "
---
It is well known that stag beetles seem to be attracted by water with dire results sometimes.
Amazingly, there is somebody who has seen a swimming stag beetle! Believe me, back in 1960, J. Anne Semmence, aged 11, wrote:
"Another time when I was by the river I saw a Stag Beetle going down to the water and it began to swim. Then at home I found a Stag Beetle on the outside water tank. The tank has a wooden cover and the beetle crawled to the edge and fell into the water. I stood to watch it swim because it looked very clever. I got it out of the water and let it dry in the sun. Since then I have not seen another Stag beetle.
The French people call it " le cerf volant", "the flying stag"."
Reference: Trans. Suffolk Nat. Soc, 11 : 360

A wonderful thing to have watched, and lucky beetle too! If you happen to see it as well, then email me as I would love to hear about it, please.

Remember that if you ever find drowned stag beetles, please pick them up and put them in a safe dry place. Quite often, they recover rather well, fortunately.

Further reading:
The Flying Stag Beetle, by Maria Fremlin, The AES Bug Club Magazine, December 2007. [PDF]

Last modified: Tue Jan 6 11:04:58 GMT 2015

| Main | Stag beetle predators |